First classified "Natural Paradise 2021"
New important award in Torre del Porticciolo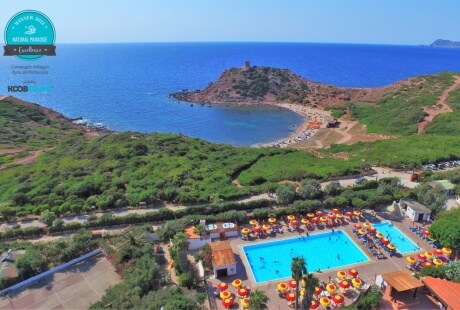 Another important award to Torre del Porticciolo, which for the 3rd consecutive year is awarded as the Best "Natural Paradise" Camping Village in Italy.
Here is the press release:
-------
"Natural Paradise" is an important award that goes to the open air structures inserted in a particularly spectacular natural context. The Certificate of Excellence Natural Paradise 2021 offers a useful overview of the campsites and tourist villages that are ideal for those who love to spend their holidays surrounded by nature without sacrificing the comforts that a camping village can offer. Standing out in the TOP 10 is the Torre del Porticciolo Camping Village in Alghero (SS), Sardinia, the overall winner in 2021. It is located in Northern Sardinia, in the picturesque Bay of Porticciolo, immersed in the enchanting Porto Conte Natural Park. The Village extends over 150,000 square meters of pine forest and Mediterranean scrub, just 10 km from the Alghero-Fertilia airport, 20 km from the port of Porto Torres and 15 km from the historic center of Alghero.
Fonte: KoobCamp
Agenzie Stampa : Travelnonstop - Alguer.it - Agrpress - Trentotoday - BuongiornoAlghero